Nearly all of us aspire to be successful in leading a group of people. Leadership plays an important role in the industrial sector. The job entails several aspects, which can be highly stressful if you do not have the power to manage your priorities and compartmentalize your experiences. Aspiring leaders can only be successful in their endeavors if they continuously work towards developing their personalities by incorporating information and utilizing them in relevant situations. 83% of organizations believe enhancing leadership skills at every company level is important. However, in most cases, only 5% of companies implement leadership development which is one of the main reasons for their failure in the business world.
Sharpening Business Acumen for better management

The need of the hour is to sharpen the business acumen that will help leaders to make correct decisions and sound judgments during critical situations. Acumen is a way of changing how a person analyses such action or an environment and making suitable choices per the situation. Business acumen combines knowledge and skills with experience and applies it to the business world. Did you know that 77% of business enterprises believe they lack leadership skills? Leadership and Management Training is a crucial function of organizations to develop talent and increase professional engagement. Leadership training focuses on how the individual interprets the different company goals and uses strategies to achieve these within a certain select amount of time. Developing business acumen can help a person to develop their Global perspective by cutting through all the clutter and providing a simple but elegant solution to all the complex problems.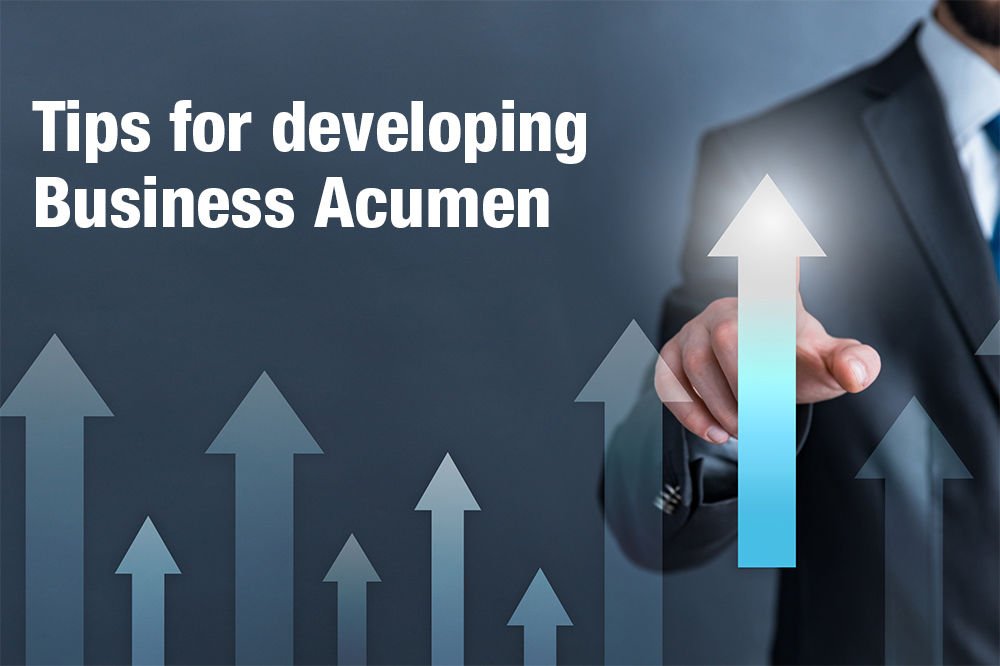 Understand the finances in the business – A large part of the workforce does not dig deep into the company's financial side. Employees need to develop financial literacy to understand the importance of profit and ways to increase revenue. Take special care to gain insight into the business intelligence data and look through the financial statements to develop your numeracy skills.

Train in mentorship – Mentorship training will also help you understand what skills are missing and can be further developed. Leadership training can help you engage with people specialized in business acumen skills and can pass on their knowledge and experiences to the mentee.

Understand the different factors in the business – There are always factors responsible for the success and failure of projects. Study the theoretical business models available to help you strategize and develop your knowledge.

Stay tuned with the trends – The world is changing every second, affecting our businesses. Therefore it is essential to keep up-to-date with all the industrial trends by following business news and social media. Subscribe to industry-related newsletters to have data ready while developing strategies.

Develop your abilities to understand personalities – Leadership and management training is an essential tool to advance the ability to gain insights regarding other personalities. This could be a colleague or even a customer. This information will give you leverage while dealing with customers or disgruntled colleagues.

Get training – Training is the most important tool in the contemporary world, considering the number of uncertainties. There is no alternative to training, and the above tips can only help if you continue to develop your personality and skills with the help of leadership and management training. Research external specialized companies that provide corporate training and sign up for a course to indulge your professional development.

Take informed risks – If you want to become a future leader, you cannot shy away from taking risks. But learn to take calculated risks by having all the data and studying them to make informed decisions. Developing business acumen is all about making critical judgments that will increase productivity.

Don't be afraid of failure – Learn how to deal with loss, grow, and learn from each failure. Use your experiences to strategize on your next move.
Conclusion
Now is the time that we should invest in our self-development. As a manager or a leader, you need to provide a learning and encouraging environment in your workplace. Leadership and management training is a crucial tool to increase the business acumen of your employees to develop good decision-making abilities.